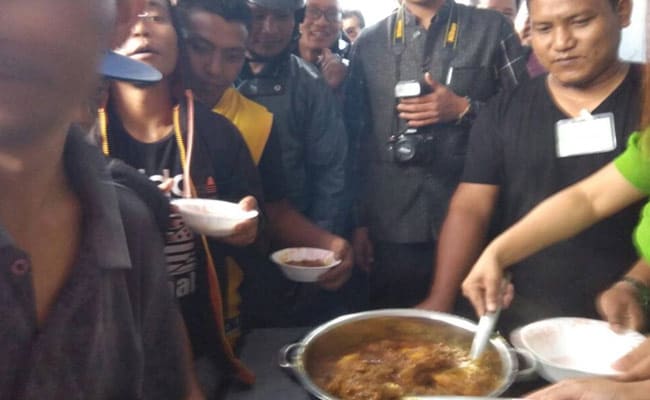 A large number of people lined up in beef party to protest against the Centre's recent notification banning sale of cattle for slaughter.
Rajnath Singh, Union Home Minister, was in Mizoram to attend a meeting of the Chief Ministers of four northeastern states. He said the Centre will not impose any restrictions on people's choice of food. Few days back, Venkaiah Naidu, Union Miniter, also assured the same following the criticism by several states that the Centre, through its new rules on cattle trade, was interfering in the people's choice of food, which is a fundamental right.
Beef ban bashing banquet organised by Zolife Group :
However scores of people in the Mizoram capital participated in a "beef ban bashing banquet" organised by a Zolife Group and other activists. Thousands were gathered and had braced heavy rainfall at Vanapa Hall where the festival was held.
Lalrinfela Hauhnar, a member of the group, said a feast in Mizoram was incomplete without beef on the menu.
"Beef has strong cultural importance for the Mizos," He told as reported
Another member, Lalremruata Varte, clarified that the festival was a symbolic protest and not meant to hurt the sentiment of Hindus.
Read this Karnataka : BJP leader says Brahmins ate beef, retracts statement after facing flak
Venkaiah Naidu U-Turn after center's placed restrictions on sale and purchase of cattle :
Another U-Turn, Venkaiah Naidu says,"Govt to examine public representation on cow slaughter ban" as reported
More than 5,000 BJP workers quit after disagreeing with party's beef politics :
In another backlash, more than 5,000 Bharatiya Janata Party youth workers quit the party on 8th June after Centre's imposed new rules on cattle sale for slaughter in animal markets.
Wilver Greham Danggo, Head the local BJP youth wing, said the party was trying to suppress the tribal and other beef-consuming communities as reported
Read this Viral Sach : Telangana BJP Leader Shares Fake Image From Abroad to incite people, Says It's India
Source & Photo Credit : NDTV & TOI